Kids Clothing Sale
Prep & Tagging
Item Limits
EUGENE has a maximum of 400 total items allowed per consignor. Our top priority is having quality items that will sell! Individual item category limits per consignor (20 shoes, 25 books, 50 items of infant clothing per gender, 5 blankets)
Clothing – Infant clothing sized 0-12 months is limited to 50 tagged items for each gender. Limited sizes are: NB, 0-3m, 3m, 3-6m, 6m, 6-9m, 6-12m, 9m, 9-12, 12m. All other children's sizes are unlimited from size 12-18 months to big kid 18-20. Items sold together as a set or bundled (ie: 3 onesies) are considered 1 item
Shoes – 20 of your best pairs, regardless of size or gender. 20 pairs total per consignor. Season appropriate, no excessive wearing, scuffs, and dirt-free. CLEAN them first!
Car Seats –  The manufacture date must be 5 years or less from the date of the sale in order to be sold. No accidents, no recalls. Waivers to be signed at drop-off
Books – we ask that you bring your 25 best books (25 tagged items, bundles ok if same reading level).
Blankets – Bring your 5 best blankets. Hang on hangers, please. No handmade!
Juniors –  Specific Brands only, limited to 20 total tagged items. We will be very picky about junior clothing. Details here
That's it! You may bring as many items from the other categories as you would like! Toys sell especially well, so please take the time to clear out your toy bins and play rooms!
What NOT to Bring
Clothing that is out-dated, out of season, stained, torn, faded, has missing buttons, or broken zippers
Maternity Clothing – Until further notice, we will not be accepting maternity clothing.
Items that smell like cigarette smoke or smell musty from storage. Note: Please wash all your items prior to tagging them.
Any recalled item; consignors are responsible for ensuring that their items have not been subject to a product recall. Please check the CPSC database to make sure your items do not have recalls.
Cribs, due to recent safety concerns, recalls, and changing standards.
Infant bathtubs, check manufacture date – new federal safety standards prohibit us from selling bathtubs manufactured before October 2nd, 2017.
Ring-sling style infant carriers, due to safety concerns and recalls.
Crib bedding sets. Crib sheets, mattress covers, are OK! But no bumpers or crib comforter/quilts are accepted.

Bottles, sippy cups, plates, utensils, teething toys, pacifiers or nipples. Anything that food comes in contact with is not accepted. New in original packaging is OK.

Stuffed animals, unless they "do" something, and no Build-a-Bear

Underwear, unless new in original packaging

Potty seats/chairs, unless new in original packaging

Diaper pails

Battery operated items without working batteries

Kids meal toys, or items that were free, including Imagination Library Books

Random "grab bags" with miscellaneous items

Single-user breast pumps – you must research this; there are very few multi-user breast pumps.

VHS tapes or cassettes

Adult books, Rated R movies, or adult video games

Household items – no home decor, porcelain dolls, fragile items, baskets, pillows, etc.

Items with missing parts or broken pieces
Please do not be offended if we return some items to you. The lighting in the facility often shows spots that were not apparent in your home. We are striving to maintain a high quality of merchandise so that our customers will be happy and will return to shop!
Accepted Items by Season
Items Always Included Year Round
Dance & swimwear
Jeans/pants
Athletic/sports shorts only
Short & long sleeve shirts
Pretend & dress-up clothing
Sweaters & Sweatshirts (must be seasonally appropriate)
Croc-style shoes (must be CLEAN!)
Rain boots
Cowgirl/cowboy boots
Only Allowed at Spring Events
4th of July themed items
Life vests, pool & flotation toys
Water Tables & Sandboxes
Tank tops & sleeveless shirts
Sandals, flip flops & water shoes
Shorts
Light fleece jackets & sweaters ok (No heavy coats)
Only Allowed at Fall Events
Halloween, Thanksgiving, Christmas & Valentine's themed items
Costumes
Tall fashion boots, snow boots, winter boots
Heavy winter coats & snow pants
Winter hats, mittens & gloves
Fleece, flannel & corduroy clothing
Notes on Seasonal Clothing
We DO NOT have hard and fast rules on acceptable clothing beyond what we have listed above. That means items like vests, skirts, sweaters, etc. are accepted year round, when seasonally appropriate. We ask that for our spring sales, clothing be of spring prints/colors and lighter in weight. In the fall, clothing should be fall prints/colors and heavier weight. It is Oregon after all, and our seasons do blend together; use our guidelines and your best judgment when entering items for sale.
How to Tag Your Items
Clothing
Sizes Preemie – 18/20 accepted. Also Juniors sizes. No Maternity.
Check clothing carefully for stains, excessive wear or pilling, broken zippers, and missing buttons. Don't waste your time preparing items that will be returned to you at drop-off or pulled from the racks later.
Price competitively! Our racks are full and overpriced items don't sell. Consider marking your items to go to discount. Who wants to take home outgrown clothes instead of more money?
Minimum price is $2.00 and you can only price in whole dollar increments.
All clothing must be on hangers. Clothing should be hung with the hook facing to the LEFT, like a question mark.
When hanging pants on a regular hanger, pin the pants to the TOP rung of the hanger.
Two-piece sets should be secured with safety pins. Pants, skirts, and bottoms can be hung on the backside with two safety pins attaching them to the top part of the hanger.
Make sure that all buttons, snaps, and zippers are fastened.
Use a safety pin or tagging gun to attach the tag in the seam or in the original tag to avoid damaging the clothing.

Use the inside seam

at the end of the left sleeve (right side when looking at the item). Do not pin to the front of the garment. (FYI: Tags attached with a tagging gun lose their tags much easier than tags attached with safety pins)
Please use the entire description field when entering your items. Be very detailed and descriptive! Use words like slim, husky, runs small, or runs big when applicable. Include BRAND, COLOR, PATTERN, in the description field. 
All clothing items must have a numbered size entered in the size field on the tag. Please convert S,M,L to the number size it fits. If clothing is size 6/7 or 10/12, always use the smallest size on the tag when entering it into your inventory. So a 6/7 put as a 6, etc. See size guide in the facebook group
Sleep sacks, swaddle blankets, wearable blankets, all blankets etc., need hung on hangers.
Shoes
Must be clean and show little wear. Eugene Kids Clothing Sale has a Limit of 20 pairs regardless of gender. Please do not put shoes in plastic bags or shoeboxes. Punch a hole in the tag and then attach with string or zipties while securing shoes together. MUST BE CLEAN! Take a few minutes to wash them! Magic Erasers work wonders on shoes! Dirty shoes will not be accepted!
Blankets
Limit of 5 Blankets for Eugene Sale. NO handmade, knitted blankets. NO hospital blankets. Should be on hangers, but do not pin them on. Just fold across the bottom bar of the hanger. Sleep sacks and swaddle blankets need hung on hangers as well. Sleep Sacks with no sleeves, and swaddlers can go in the Blanket Category. Sleep Sacks with sleeves, will go in the Clothing Category.
Toys
Must have working batteries, all pieces must be included, and loose pieces should be in zip-lock bags and attached to the item. Clean toys always sell better! No stuffed animals or recalled items. Do not use scotch tape; only clear packing tape on plastic toys or secure tags with zip ties. Don't be stingy with tape either! If your toy comes with small pieces, put them in a zip-lock bag and secure them as if you were shopping in a storm! (This is comparable to all the children that are looking at items while shopping.) Zip-tie pieces together!
Puzzles & Games
Count ALL pieces before tagging. ALL pieces must be included in order to be sold. Please use plastic saran wrap to secure all puzzles not in boxes (wood puzzles, peg puzzles, etc.), then secure the saran wrap with clear tape. Only use blue tape on puzzles, small pieces on all 4 sides. If you try to sell something with missing pieces, you will be assessed a $5 fee per item.
Large Toys & Outdoor Equipment
These are best-sellers! Must be clean! Wipe them down to get rid of dirt and crumbs. This includes play kitchens, play houses, wagons, bicycles, toy boxes, doll houses, tool benches, etc.
Infant Carriers
Ergos, Wraps, Baby Bjorn, Lillebaby, Moby, Tula, etc. These need to be clean and checked for recalls. Zip-tie to a hanger.
Books
EUGENE has a limit of 25 tagged items for books. REDMOND has no limit.  If selling bundles of books, secure them together with 2 rubber bands or tie with string! Do not try to hide damaged books in the middle of bundles and do not use tape on books, even blue tape peels off the cover sometimes. You may use two small pieces of blue tape to secure the tag on the item. But do not wrap the books in tape. (Items found to have flaws, that were hidden in bundles, etc. will be accessed a $5.00 per item fee)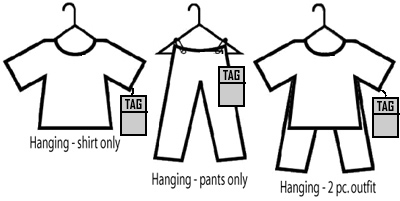 Tagging Supplies
Hangers! Any type; wire or plastic.
WHITE cardstock; regular printer paper is NOT allowed.
Scissors or paper cutter
Tagging gun (only if used correctly)
Blue painters tape
Clear packing tape
Zip-lock bags of all sizes
Zip ties, string
Batteries
Safety Pins
We have high quality safety pins available for our consignors! These safety pins slide like "buddah" through your clothes. Much better than the dollar store pins that bend and break, and these won't leave holes! They are 1.5 inch pins and are in bags of 100 for $1.00! Amazing deal for high quality safety pins! Pick-up information will be given on the Consignor Only Facebook Group! If you would like them shipped, order and pay here with PayPal!
100 pins for $1.00
+ add $4.00 shipping for 1 bags
+ add $5.00 shipping for 2-3 bags
+add $6.00 shipping for 4-5 bags
Use very detailed descriptions on your tags. If an item gets separated from its tag, we can look it up in our system, but only if the description on the tag gives us enough information to match it up to the item. A tag that just says "toy" or "pants" will never get matched back up to its item, which means we won't be able to sell it. Be very descriptive on your tags, ie: "Blue Sweater" should be "Baby Gap Light Blue Sweater with dog".
Once you have printed your tags, do NOT change ANYTHING in the tagging program or on the actual tags such as price, description, size, discount, etc. The bar code will only give the info that was input into the computer at the time it was printed. If you need to make a change, you must correct it in your online inventory AND print out a new tag and attach to the item.
Make sure your bar codes are not smudged or fuzzy. The scanners will not read them. If using an inkjet printer, set it on the draft or low ink setting. If your bar codes come out fuzzy or too bold, they will not scan. Print on white cardstock only!
Multiple items should be noted in your description, so if something comes loose we can find the missing piece. You can attach a separate 3×5 card with additional item details for items that you'd like to let the shopper know a little bit more about!
If you have a multiple piece large item (ie: stroller, car-seat, base), you will hand-write Item 1 of 3 on the bar coded tag, then hand-write a second tag that says Item 2 of 3 and 3 of 3 to attach to the other 2 items that go with it. Also include your consignor number, item number, and description on the 2nd and 3rd tags.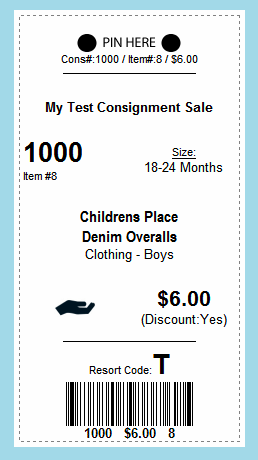 Fri, Sept. 16, 9:00am – 8:00pm
Sat, Sept. 17, 9:00am – 5:00pm
Sun, Sept. 18, 9:00am – 2:00pm
Lane Events Center
796 W 13th Ave, Eugene, OR 97402
Fri, Sept. 16, 9:00am – 8:00pm
Sat, Sept. 17, 9:00am – 5:00pm
Sun, Sept. 18, 9:00am – 2:00pm
Lane Events Center
796 W 13th Ave, Eugene, OR 97402